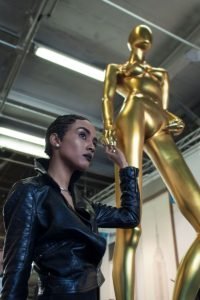 Marko Stout is all about attention grabbing artworks that focus on sexuality and the urban myth. This is one of the reasons he's often compared to Andy Warhol and Jeff Koons. It also makes him the perfect fit for Miami's new Wynham Modern Art Gallery.
In his current this show, "Erotic Dreams" Stout gives us vibrant sculptures with experiment film and his numerous urban pop prints infused with his own style of New York cool.
Stout's exploration of sexuality puts a modern twist on this artistic theme with a certain urban gritty and accessible feel perfect for a modern audience. It's why he's so popular- especially with young people. Images of his works have exploded over social media in the last year- especially since Stout made news with his record breaking sale of his colossal figurative sculptures to a Berlin collector and nightclub owner at the ArtExpo Show in New York City last April. The sale was the largest at the show and one of the biggest in the long history of the Expo.
The widespread social media buzz especially by young artists and millennial art fans along Marko Stout's rising sales and gallery attention has many suggesting that this New York artist will become his generation's next Andy Warhol.
Much excitement among this fans and the art world sounds Marko Stout's first major New York City solo this autumn. Stout's "Erotic Dreams" exhibition will be moved from the Wynham Modern Art Gallery later this month for his upcoming solo show at the Art Nation Gallery in Times Square. The exhibition is set to open at the New York gallery on 10/20/16. There will be a limited preview and collectors showing at the Rivington SoHo gallery in downtown New York City 08/31/16 thru 09/05/16.
For more information, you can visit Marko's Website here: http://www.markostout.com
Twitter: https://twitter.com/MarkoStoutNYC
Facebook: https://www.facebook.com/MarkoStoutGalleries